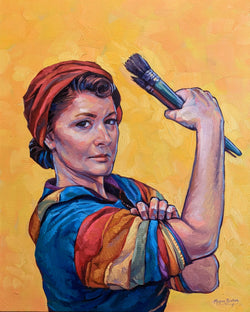 HOW DOES YOUR ART ANSWER THE CALL "HERSTORY"
This painting popped into my head when I heard about the theme of this show, "Her Story". After years of putting art on the backburner, I now get to paint full time like I've always dreamed! And to prove it, we took a leap of faith and moved out to Utah 5 months ago to put my paint brush where my mouth was... So this painting is my statement, "I Got This!" is how excited I am to fulfil my dreams!
BIO & ARTIST STATEMENT
Megan Rieker grew up in Maryland in a family of 8. She graduated with a Bachelor's degree in General Fine Arts and a Masters' Degree in Art Teaching from Maryland Institute, College of Art in 1996. She married Mark Rieker in 1992 and together have 3 boys, a Daughter-in-law and a grandson – lots of testosterone in this family! They have been stationed in Germany, Italy, Korea, Colorado Springs CO, Goodyear AZ and will be in the DC area until 2022.
In 2000, a serious case of Bell's Palsy left Megan with the right side of her face 80% paralyzed. Soon after, she was given a blessing in which she was told to begin using her art for the church. After much prayer & study, Megan began the "Women of Inspiration" series, which includes women throughout LDS history as well as the ideals and values taught in the gospel. She continues to paint between piles of laundry and teaching art lessons. For the past 21 years Megan has been speaking publicly on art and religion around the world. The purpose of her work and public speaking is to uplift and inspire others to reach for our potential as children of God.
Her paintings have been featured in the Ensign, the Daughters of My Kingdom book, Church videos, in museums, temple visitor's centers, and on book covers. 
There's nothing like a life-changing event to make you change your focus as an artist. After partially recovering from Bells Palsy in 2000, I decided life was too short to just do commissions when I knew that I had my own voice to share in the art world. 
Since then, my art has become like large journal entries of my travels through our 10 years living in Europe and Asia.  Each painting acts as a testimony of my views and faith.  My motivation comes from 2 places – nature, with its dancing colors and exhilarating scenes that I've visited around the world. And secondly my faith, which brings me hope and teaches me to be a better, kinder person as I paint women from the scriptures, then speak about them to groups.