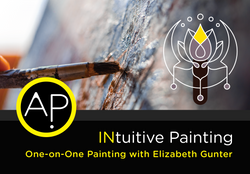 INtuitive Painting with Elizabeth Gunter
Are you ready for a deeper dive into the creative process? Join me for a one-on-one INtuitive Painting session, tap into what your soul wants to create and be.
In a relaxed, supportive environment you will be supplied with a guided meditation, sound therapy with ocean drumming, shamanic drumming and sound bowls, guided inspiration, energy work, and 2 hours of guided art technique instruction.
Discover the surprising renewal that comes from participating in the playful creative process!
No artistic or meditation experience is necessary, just an open mind!
Duration: 2 hours (to be scheduled at a time that works for you)
Medium: Choose between Acrylics or Watercolor